We appreciate your long-term support to Smalltao. From now - September 10, we open registeration. You can pay orders by Visa card or Master card, and at the same time, we will give you an additional 2% refund of total amount of the payment. We promise always providing 100% of the high quality services.
Official authorization Joyoung multifunctional cooking machine Joyoung JYL-C020 dry grinding / mixing / juicer Genius
Shop Created:

11/8/2011
Detailed seller ratings

(out of 5)

Item as Described:

4.8

Communication:

4.8

Shipping Speed:

4.8
Brand:

Joyoung
Joyoung Soymilk Model:

JYL-C020
The juicer / mixing / cooking machine types:

Cooking machine
Color Classification:

White
For the number of:

4-5 people
Juice / mixing / cooking machine function:

Juice, minced, crushed ice, dry grinding, mixing system milkshake, mixed
Speed ​​adjustment:

Manual
Placement:

Desktop
After-sales service:

Genius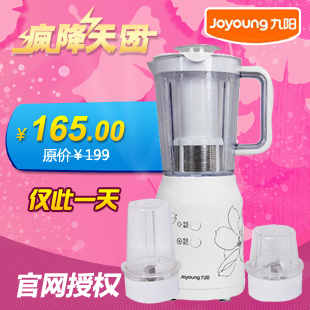 Choose region:
Choose shipping method:
Delivery Time:

Shipping Cost:
Items weight estimation

0

g, subject to actual weight
Calculated shipping includes heavy logistics. Order more, shipping costs will reduce to 50% discounts!
You can advise shipping services including DHL, ocean shipping, UPS, Fedex, pls contact us!
What is the approximate weight?
We have indicated the approximate weight of the goods, it may differ from the actual in large and in the smaller side. The exact weight you can learn from the detailed description of the goods (not always specified).